Electromagnetic Field Theory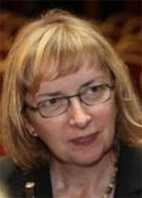 Curriculum Vitae
2013-2019: Vorstandsmitglied im Department Life, Light & Matter, Interdisziplinäre Fakultät, Universität Rostock


2009-2013: Prorektorin für Forschung und Forschungsausbildung, Universität Rostock


2006-2008: Vorsitzende des Fakultätstages für Elektrotechnik und Infomationstechnik (ex. officio: Vorstandsmitglied 4ING)


2004-2006: Dekanin der Fakultät für Infomatik und Elektrotechnik, Universität Rostock


seit 1997: Universitätsprofessorin am Institut für allgemeine Elektrotechnik der Universität Rostock (Lehrstuhl für Theoretische Elektrotechnik)


1997: Wissenschaftliche Assistentin an der Technischen Hochschule Darmstadt | Habilitation am Fachbereich Elektrotechnik und Informationstechnik der TH Darmstadt für die Fächer "Theoretische Elektrotechnik" und "Wissenschaftliches Rechnen" Thema der Habilitationsschrift: "Lineare Gleichungssysteme in der numerischen Feldberechnung"


1995-1997: Stipendiatin der Deutschen Forschungsgemeinschaft (DFG) | Lehrbeauftragte an der Technischen Hochschule Darmstadt


1990-1995: Wissenschaftliche Angestellte an der Technischen Hochschule Darmstadt


1983-1989: Wissenschaftliche Mitarbeiterin bei der Stiftung Deutsches Elektronen-Synchrotron (DESY) in Hamburg | Disputation im Fachbereich Mathematik der Technischen Hochschule Darmstadt Thema der Dissertation: "Zur numerischen Berechnung zeitharmonischer elektromagntischer Felder in offenen, zylindersymetrischen Strukturen unter Verwendung von Mehrgitterverfahren"


1976-1983: Studium der Mathematik an der Rheinischen Friedrich-Wilhelms-Universität Bonn

1983: Diplom mit Nebenfach Operations Research Thema der Diplomarbeit: "Numerische Lösung linearer Gleichungssysteme unter a priori Genauigkeitsvorgaben mit Anwendungen in der Netztheorie"
1979: Vordiplom mit Nebenfach Physik
Awards | Committees | Ministries
2016 Aufnahme in acatech, die Deutsche Akademie der Technikwissenschaften
2016 Wissenschaftlicher Beirat des Leibniz-Institut für Plasmaforschung und Technologie e. V.
2009-2018: Forschungskommission der HRK
2014-2017: Internationale ExpertenkommissionElitenetzwerk Bayern
2008-2016: DFG-Fachkollegium Elektrotechnik und Interdisziplinäre Sektion Medizintechnik
2014-2015: Mentorenschaft im Helmholtz-Mentoring-Programm "In Führung gehen"
2011,13,15: ERC Advances Grant Panel PE7 subset B
2011-2014: Co-Editor von Advances in Radio Science für B: Fields and Waves
2009-2013: Prorektorin für Forschung und Forschungsausbildung, Universität Rostock
2006-2011: Programmbeirat "Wissenschaftliches Rechnen" des Forschungszentrums Jülich
2009-2010: Bewertungsgruppe Elektrotechnik und Informationstechnik zum Forschungsrating des WR
seit 2010: Kuratoriumsmitglied des Kompetenzzentrums Technik-Diversity-Chancengleichheit e.V.
seit 2010: AcademiaNet-Mitglied
2010: Panel of Experts, The G8 Research Councils Initiative on Multilateral Research Funding, Interdisciplinary Program on Application Software towards Exascale Computing for Global Scale Issues
seit 2009: Role Model im VDI-Projekt MINTalente
seit 2009: Zentrumsrat Rostocker Zentrum zur Erforschung des Demografischen Wandels
2000-2006: Kommission für Rechenanlagen der DFG
1999: Preis der Vereinigung von Freunden der Technischen Universität zu Darmstadt e.V. (Ernst-Ludwigs-Hochschulgesellschaft) für die Habilitationsschrift
Vier Tagungsleitungen mit mehr als 100 Teilnehmern, davon drei international (11th International Computational Accelerator Physics Conference [ICAP 2012], Kleinheubacher Tagung 2003 (Jahrestagung des U.R.S.I.* Landesausschuß Deutschland, *International Union of Radio Science, 3rd International Workshop on Scientific Computing in Electrical Engineering [SCEE 2000])
Editoral Board bei ca. 10 Konferenzserien, u.a. COMPUMAG Conference on the Computation of Electromagnetic Fields (seit 1999, biennal), IEEE Conference on Electromagnetic Field Computation (CEFC, seit 2000, biennal), International Conference on Computation in Electromagnetics (CEM, seit 2008, triennial)
Gutachterin für den Alexander-von-Humboldt-Forschungspreis sowie den Lise-Meitner-Preis des Landes Hessen
Gutachterin für die DFG, die Flämische Forschungsgemeinschaft (FWO), die Swiss National Science Foundation (FNSNF), das European Research Council Executive Agency (ERC), u.w.m.